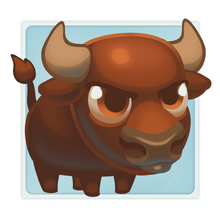 Bull is one of the elements in Farm Heroes Saga. It comes together with Poppy Flower, another element.
Behavior[]
Bulls run against other blockers and will advance them 1 or 2 stages. To initiate a run you have to match next to them. Poppy Flowers have only one stage and will vanish.
Bulls can be stopped by sheep. Some levels require the interaction between sheep and bulls (e.g. Level 725). Activated sheep, however, may cross a bull.
Bulls mostly remove normal cropsies on their way without scoring (like a tractor). Advanced Eggs will eventually remain.
Bulls will always destroy bomb cropsies when running over them.
Bulls can pass an empty field.
Poppy Flowers can be destroyed exclusively by bulls. They cannot be moved.
Levels with bulls can be frustrating because you need exactly the right match to make the only useful bull run (sequence).
None of the boosters will affect a bull or a poppy flower.
Level[]
Glitch[]
When using Shock Player the bull will sometimes (not often) run in the wrong direction
Walkthrough[]
Gallery[]