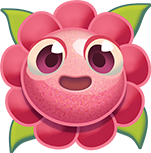 Flower is one of the elements in Farm Heroes Saga. They go through 3 stages.
Flowers are a special Cropsie that need to be fully bloomed to collect. To do this you must create 3 matches alongside of it.
Always be on the lookout for ways to create a match next to a flower. You should also try to make those matches count towards the Cropsies you need to complete the level.You should put these hard tasks as your first step.
The player may use Flower seeds to plant flowers. Do this early on a level to have enough moves left to harvest them.
Level
[
]
Gallery
[
]