(One intermediate revision by one other user not shown)
Line 4:
Line 4:
 

'''Ice''' or '''Frozen Cropsies''' will freeze elements. If frozen elements are used as part of a match they will be unfrozen but the element(s) frozen will not be collected. The match however counts and the other [[cropsie]]s will be removed.

 

'''Ice''' or '''Frozen Cropsies''' will freeze elements. If frozen elements are used as part of a match they will be unfrozen but the element(s) frozen will not be collected. The match however counts and the other [[cropsie]]s will be removed.

 
 
−

In some Farm Heroes Saga levels, you will find frozen cropsies. You must match frozen cropsies with others of the same type in order to shatter the ice before you can collect them. Frozen cropsies are a basic blocker but are key to understanding, to move on to more complex obstacles later on. You'll need to master frozen cropsies if you want to become an ace at Farm Hero Saga!

+

In some Farm Heroes Saga levels, you will find frozen cropsies. You must match frozen cropsies with others of the same type in order to shatter the ice before you can collect them. Frozen cropsies are a basic blocker but are key to understanding, to move on to more complex obstacles later on. You'll need to master frozen cropsies if you want to become an ace at Farm Saga!

 
+
 
+

==Appearance==

 
+

He has a light blue square, ¡like the cube!

 
+
 
 
 

'''Features:'''

 

'''Features:'''
---
Revision as of 22:02, 25 January 2020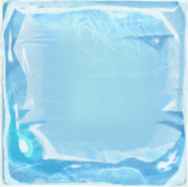 Ice or Frozen Cropsies is one of the blockers in Farm Heroes Saga.
Ice or Frozen Cropsies will freeze elements. If frozen elements are used as part of a match they will be unfrozen but the element(s) frozen will not be collected. The match however counts and the other cropsies will be removed.
In some Farm Heroes Saga levels, you will find frozen cropsies. You must match frozen cropsies with others of the same type in order to shatter the ice before you can collect them. Frozen cropsies are a basic blocker but are key to understanding, to move on to more complex obstacles later on. You'll need to master frozen cropsies if you want to become an ace at Farm Heroes Saga!
Appearance
He has a light blue square, ¡like the cube!

Features:
Frozen cropsies always start on the board at the beginning of the level. They are not frozen by outside objects or tiles.
Frozen cropsies cannot be swapped to form a match. They should be treated as a blank tile for this purpose.
Frozen cropsies immobility can cut off reinforcements and isolate areas of the board.
Frozen cropsies do not spread.
The sun cropsies do not affect frozen cropsies in any different or significant way.
Frozen Cropsy Tips and Tricks
Frozen cropsies are thawed by being part of an active match. Making a match next to a frozen cropsy will not thaw it, it will only waste time. Make sure to take note of the color of each frozen cropsy, to start finding potential matches nearby.
Do not over-prioritize frozen cropsies. While they are restrictive to your options on the level, they are not as dangerous as some other blockers, like snowballs which can take over the whole board. Breakthrough frozen cropsies to take out any isolated areas, but don't focus on them too much when more dangerous blockers are afoot.
Level
Gallery
Walkthrough
Community content is available under
CC-BY-SA
unless otherwise noted.