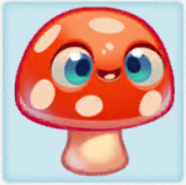 Mushroom is one of the elements in Farm Heroes Saga.
Behavior
Adult mushrooms will split into 2 babies when a match takes place next to them.
Baby mushrooms will not move and cannot be be removed by a Magic Shovel. Neither can they be matched.
Adult mushrooms drop down and can be collected like Cropsies. Bonuses are added.
It's necessary for the the player to maintain a breed of mushrooms.
Level
Mushrooms first appear in level 941, the first level of the 60th episode, Arresting Arctic.
Trivia
There is a visual glitch in this element. When the baby mushroom is trapped by cobweb, the baby mushroom is shown as above the cobweb instead below.
Walkthrough
Galler