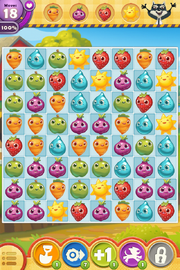 Rancid level is one of the three level types in Farm Heroes Saga. Each episode must contain 1 rancid level, and Sandy Slopes is the only episode to contain 2 rancid levels. This level type's icon is purple with a rancid evil icon. This level type first appear in level 10.
Objective
[
]
1-4 cropsies are targeted, in the example 4 (carrot, onion, strawberry, sun). Similar to normal levels, players need to get as much targeted cropsies as possible. If the collected amount of targeted cropsies reaches the goal, rancid is defeated.
Staring system
[
]
If the amount collected is not enough, you fall the level. If there are remaining moves after rancid defeated, hero mode will not be activated while each extra move is turned to 6,000 points (6% growth).
If you get 2 or 3 stars in rancid levels, you will get a key to open the next episode, otherwise you need to wait or complete several tasks to unlock the next episode once you pass the last level for ongoing episode. Therefore, it is suggested to complete rancid levels faster to leave several moves to get 2 or 3 stars.
Booster
[
]
Rancid levels normally requires more cropsies than normal levels, so it is tough to beat. To help players pass this level easily, they can purchase "all cropsies +1" with 875 green beans or "all cropsies +2" with 1750 green beans. While using the above booster can mostly pass the level, don't use booster can sometimes pass it depends on the difficulty.
List of rancid levels
[
]